Learn How To Play Piano By Ear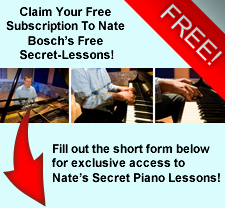 Welcome to PianoByEar.net! Here you can can get a great start on learning the piano. Our free piano lessons offer tons of excellent information on the best way to begin learning the piano and have fun while doing it!
You can also sign up for Nate Bosch's '12 Steps To Playing Piano' free piano course. The course is sent instantly to your email provided so you can use the free high quality video directly from your computer at home. These 12 lessons would normally cost you around $50.00 but you can get them all for free today!
Our mission here at Piano By Ear is to educate. We are hoping that this website along with any others that you can find on the internet can be a part of your search for complete piano lessons. In this day and age, you can learn the piano without leaving your home and without spending hundreds or even thousands of dollars a year on piano lessons. Start here, and see for yourself that learning the piano is literally within your fingertips.
Begin using this learning tool by visiting the 'Lessons' section of this website. Select a difficulty at which you would like to begin, and have fun!
Below is the first lesson of the '
12 Steps to Playing Piano

' course by Nate Bosch
Sign up for the full 12 steps below! All you need is an email to begin learning the piano today!